Text message 'virtual flyer'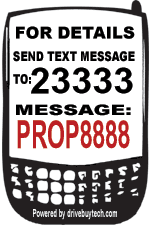 Rather than grabbing a paper flyer, buyers send a "Text Message" to a number, and receive back information on the property.
LEAD GENERATION! You get a real phone number from a real buyer each time someone requests info. Far better than a paper flyer!
You get an email and/or text message each time a potential buyer requests information on your listing.
We can provide signage with your "codes," or you can produce your own.
Pricing: $8/month per listing.