Anyone who's been in the market to buy a home in the past year can tell you – there's very little to choose from and you have to move FAST. The name of the game right now in real estate is inventory, or lack thereof.
Luckily, on a national level, we're seeing an increase in homes on the market: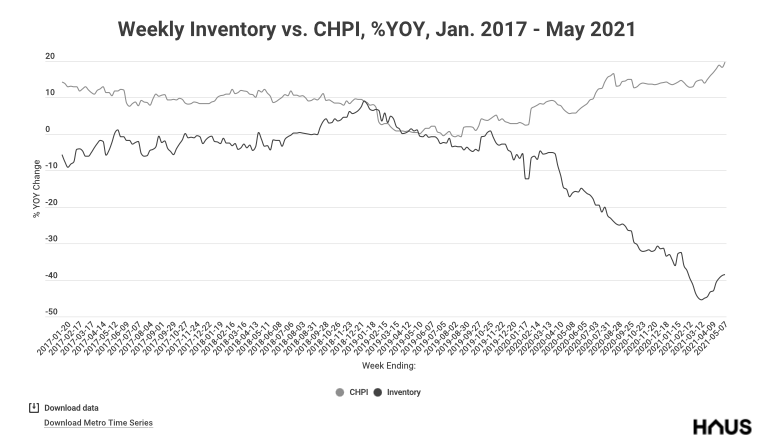 Note, "CHPI" is a proprietary measure of asking prices, which continue to go up. In the Charlotte market, prices are up about 15% year over year, and inventory is down a whopping 50%.
The other remarkable thing is the percentage of homes that are off the market within a month: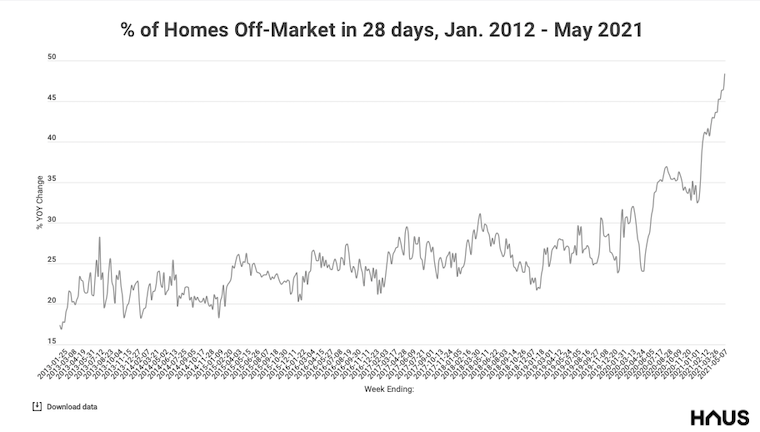 Nationally, almost half of all homes listed go under contract within a month. In the Charlotte market, we're above average at about 56% of homes selling within a month. If you have buyers "taking their time," you're probably ready to pull your hair out by now. 🙂
No, it's not a bubble!
One thing to watch out for is the popular notion that we're in some sort of "bubble." But as we've explained many, many times: this is not a real estate bubble. Yes, inventory will creep up and we might even see a downturn. But people waiting for some sort of massive crash (a-la 2008) will be disappointed. Make sure to educate everyone in your sphere of influence that while yes, this is a challenging market for buyers, it is not a "bubble."
For those of us who were in the business back in '09-'10 or so, when we had a year of inventory & homes were often sitting for months, no matter the price, this current market is truly a wild turn of events!